We often hear such comments. How do you find solutions? There is a limit to what you can learn independently. It often seems that there is no one to consult. In such a case, why not attend a seminar for swallowing trainers organized by the DHP?
You can gain confidence in yourself because the certification is issued by a third party as proof that one can actually be involved in swallowing treatment as opposed to someone claiming that they can provide swallowing treatment. You need to attend four seminar sessions to obtain certification, but you can determine which topic to attend first! Then, with the application for certification, you will become a swallowing trainer. We welcome those not aiming for certification but who wish attend a seminar only when the topic is interesting!


Seminar for swallowing trainers
You can start with any topic in the swallowing trainer seminar.
We will briefly introduce the details of each seminar.
The seminars consist of two sections: lectures and hands-on training. The former section is very easy to comprehend even for those studying swallowing treatment for the first time. At the same time, the lecture is useful even for experienced attendees because the seminar delivers the latest findings. Hands-on training is provided by dividing participants into small groups, where this section becomes especially lively, since the attendees always run out of time. We receive a lot of feedback from the attendees, such as the following: "It was a great learning experience," "I feel like I can actually do that from tomorrow," "I made friends nationwide," "I became more motivated for clinical practice," and "I was comfortable asking questions." The group's instructor takes questions from each individual. Therefore, you can ask questions without hesitating, even if you would ask a basic question. We will briefly introduce the details of the four topics.
Are you struggling with what and how to provide training? Are you unsure if the training you are providing is correct?
We will show you specific training examples in detail in the seminar.
If the patient is the one who will actually eat or take food by mouth, it is important to manage the risk when the patient has a swallowing disorder. You must be able to provide direct training with confidence by learning of the conditions for proper swallowing and how to deal with each situation.
What should be the most appropriate training or care for a patient is not revealed as long as you lack precision in your observations of patients with dysphagia or a swallowing disorder. If you observe with a focus, you will see which point is wrong and then be able to confidently provide the appropriate training and care.
We have had many ideas for training in swallowing treatment until now. However, there are many cases where training is not applicable to patients in the chronic phase or with dementia who have difficulty communicating. Even such patients need appropriate meal support and assistance to ensure the safe consumption of daily meals.
Our seminars are mostly held in Shin-Osaka, where transportation is very convenient. The seminars start at 1:00 p.m. and end at 5:00 p.m. You will learn about swallowing during a half-day seminar. The Certificate of Achievement is issued when attend the seminar for the first time, and you will receive a certificate of attendance for each completed topic.
I could not go ahead with swallowing training because I was not confident, but now I can at last, thanks to the seminar in which key points were plainly and fully explained.
The seminars include information on nutrition and breathing, as well as eating and swallowing functions. It was very educational for me to learn that those factors are also involved.
I learned cervical auscultation for the first time! Now, I carry around a stethoscope!
I always questioned whether what I had been doing was correct, and that question has been resolved.
It was very useful to actually confirm the training during hands-on practice. Moreover, the explanations from the group's instructor was detailed and easy to understand!
Once you are certified as a swallowing trainer
When you obtain all four certificates of attendance for your Certificate of Achievement, you can apply for certification. You will receive the certification with photo identification at a later date.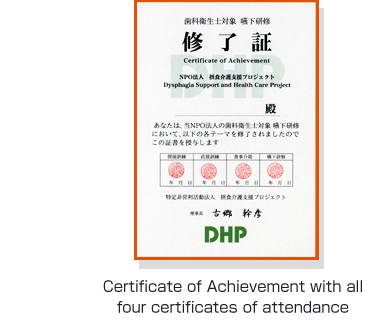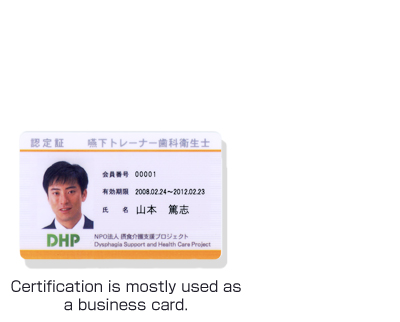 Moreover …
●Your name will be posted on our website upon request.
●The DHP may ask you to assist at workshops or ask you to give a seminar!