About  "Shoku-i:Doctor of deglutition"
What we refer to as  "Shoku-i:Doctor of deglutition"
In China, doctors are divided into four categories: internal disease treated with medicine, external disease treated with surgery, veterinarians for animals, and  "Shoku-i" who manage overall food. Dietary physicians are the most significant of all.
Today, doctors for internal disease are physicians further subdivided into gastroenterologists and neurologists. Doctors for external disease are surgeons further subdivided into neurosurgeons and orthopedic surgeons. Veterinarians have developed but remain as they were. On the other hand,  "Shoku-i" have disappeared. Currently, no doctors in any category are responsible for medical treatment involving food. Such a situation might lead to issues of the need for gastrostomy and the rightness and wrongness of oral intake at the end of life.
The DHP is taking the initiative to increase the number of "Shoku-i" so that people ranging from babies to the elderly can eat by mouth without worry. The DHP refers to "Shoku-i" as medical professionals who do not advocate simply eating by mouth based on a dualistic theory that feeding is good and not feeding is bad but as a medical professional who can judge how safely people can eat, not only by making excellent use of a wide range of knowledge in pulmonology, neurology, psychiatry,gastroenterology,cardiology,otorhinolaryngology, dentistry, rehabilitation, nutrition science, and ethics, but also by additionally considering the patient's main complaint and using human resources with medical and nursing care.
"Shoku-i" who have completed DHP seminars are posted on' "Shoku-i" s Map on our website. Medical care related to food is not concluded only in a hospital, but for such medical care, it is important to support the lives of patients after discharge from the hospital. Medical care related to food begins with community development. Medical care in Japan will change when "Shoku-i" as indicated on the map appear across Japan. We will continue our activities with this belief.
"Shoku-i" meet every fall.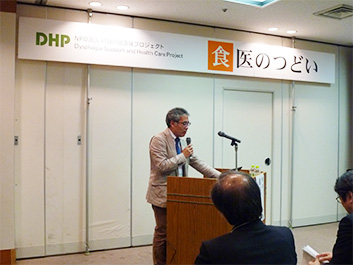 The Special Meeting of Dietary Physicians commemorating the 12th anniversary was held on November 17,2019. A record number of 309 people engaged in medical and nursing care from all over Japan participated in that meeting.

"Shoku-i" is a registered trademark.